Our doctors at American Vision are Optometrists; primary health care providers for the diagnosis, management and treatment of eye diseases and visual system disorders. All of our doctors are New York State licensed and TPA certified which allows them to write prescriptions to treat and manage many eye diseases and infections.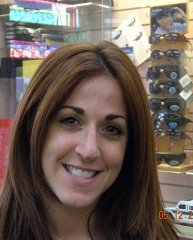 Elyse Teran Decker, O.D.
Having grown up in this family business, and with a strong passion for medicine, it was only natural for Dr. Decker to pursue a career in optometry. As one of the owners and optometrists, Dr. Decker takes a personal interest in all of her patients. Dr. Decker completed her undergraduate degree at the University of Wisconsin - Madison and went on to the State University of New York - College of Optometry where she graduated with honors in 2005. Her specialty includes the fitting of all types of contact lenses and the diagnosis and management of ocular disease. Dr. Decker has participated in clinical investigations for Ciba Vision and Alcon Laboratories allowing her to be familiar with some of the most current contact lenses and lens care products available.
What makes our exams different than other eye exams?
At American Vision you will receive a comprehensive eye examination. This is a detailed and complete evaluation of the health of each area of the eye as well as thorough vision testing and prescription assessment. Our doctors will explain the purpose of each test as it is performed. We want you to understand all your ocular health and vision treatment options.
During your exam you can expect our doctors to test and assess your pupil reactions and eye muscle coordination. We will perform refractive testing to determine the lens strength required for the clearest possible vision. The cornea and lens are checked for general health and the possible development of cataracts. During the exam, pressure in the eye is measured to see if there are any early signs of glaucoma. In addition, the back of the eye, including the retina, macula and optic nerve are examined for signs of disease and problems such as macular degeneration, diabetic retinopathy, and retinal holes, tears and/or detachments. Observations of the back of the eye is performed best with a dilated examination using drops to enlarge the size of your pupils.
Note: Due to COVID-19, please call to confirm doctor's hours
Bayside
Mon
Dr. Elyse Teran Decker
11:00 - 7:00
Tue
Dr. Elyse Teran Decker
11:00 - 7:00
Wed
Rotating
11:00 - 7:00
Thur
Dr. Elyse Teran Decker
12:00 - 8:00
Fri
Dr. Elyse Teran Decker
10:00 - 6:00
Sat
Rotating
9:30 - 5:30
Sun
Closed
Closed
Lynbrook
Mon
Rotating
11:00 - 7:00
Tue
Rotating
11:00 - 7:00
Wed
Dr. Elyse Teran Decker
11:00 - 7:00
Thur
Rotating
12:00 - 8:00
Fri
Rotating
10:00 - 6:00
Sat
Rotating
9:30 - 5:30
Sun
Closed
Closed